To prepare New York City for increased heavy rain, Rebuild by Design, One Architecture & Urbanism, the Mayor's Office of Climate & Environmental Justice, the NYC Mayor's Office of Housing and Recovery Operations, and the NYC Department of Environmental Protection are launching an open call for individuals and organizations to participate in the Rainproof NYC Working Groups. The working groups, co-facilitated and composed of NYC agency staff and community leaders, will meet regularly from January through June to identify and recommend strategies and policies to adapt to increased heavy rainfall.
We are looking for community leaders who have a diversity of experiences and backgrounds to take part in these working groups.

Applications are due on December 11, 2023 and selected participants will be notified on or around December 19. 
Image credit: Sugar Pond via Wikicommons
WORKING GROUP PROCESS GOALS 
ADAPT TO LIVING WITH WATER by using the output from the symposium to inform a collaborative process to design programs, policies, or projects and an actionable and implementable agenda to catalyze New York City's work forward to address increasing heavy rainfall.
UTILIZE STAKEHOLDER INPUT, expert advice, and best practices from other localities to inform programmatic components.
CREATE A DEEPER UNDERSTANDING of the intersection of increasing rainfall with climate justice, adaptation, housing, economic impacts, mental health, and social resilience, and a deeper understanding of local challenges and existing and new programmatic solutions.
CREATE A REPLICABLE MODEL of community and government collaboration in policy design
THE GROUPS WILL FOCUS ON THE FOLLOWING TOPIC AREAS:
WORKING GROUP 1: How can we shift NYC's policies and priorities to create a comprehensive plan to prepare for increasing rainfall? Address gaps in infrastructure and risk management to protect from and prepare New Yorkers for more intense precipitation.
WORKING GROUP 2: What does an equitable buyout program look like for New York City? Inform the development of the City's Housing Mobility & Land Acquisition Program.
WORKING GROUP 3: How can we build capacity among communities, the private sector, and CBO's to share responsibility of managing increased heavy rainfall? Every drop counts. Build out an education and communications campaign to build the capacities of communities, the private sector, CBO's, local nonprofits, and other agencies to do their part in managing increasing heavy rainfall.
The Rainproof NYC working groups build on an initiative launched by Rebuild by Design and One Architecture to Rainproof NYC, a March 2023 symposium, as well as the City's efforts to improve flood resiliency, including strategies outlined in PlaNYC: Getting Sustainability Done. 
The working groups have limited participation space and we value diversity in the composition of each group across lived and professional expertise, and across age, ethnicity, gender, physical abilities, race, sexual orientation, educational background, geographic location, income, marital or partner status, military experience, parental status, religious beliefs. As part of the application process, we are asking that you prioritize a working group you would like to be part of. Members of the working groups will be selected by the Steering Committee (see below.)
Members of the working groups will be asked to participate actively in regular meetings from January through June and are encouraged to:
be an active participant in regularly scheduled working group meetings, a midpoint check-in half-day workshop and a final public event/symposium.

conduct follow-up work between meetings and connect with experts outside of the working groups to inform the group's policy and programmatic development. 

co-create recommendations for policy and programmatic solutions to the working group's respective challenge.

co-create presentation materials to publicly share recommendations.
what does it mean to rainproof New York City?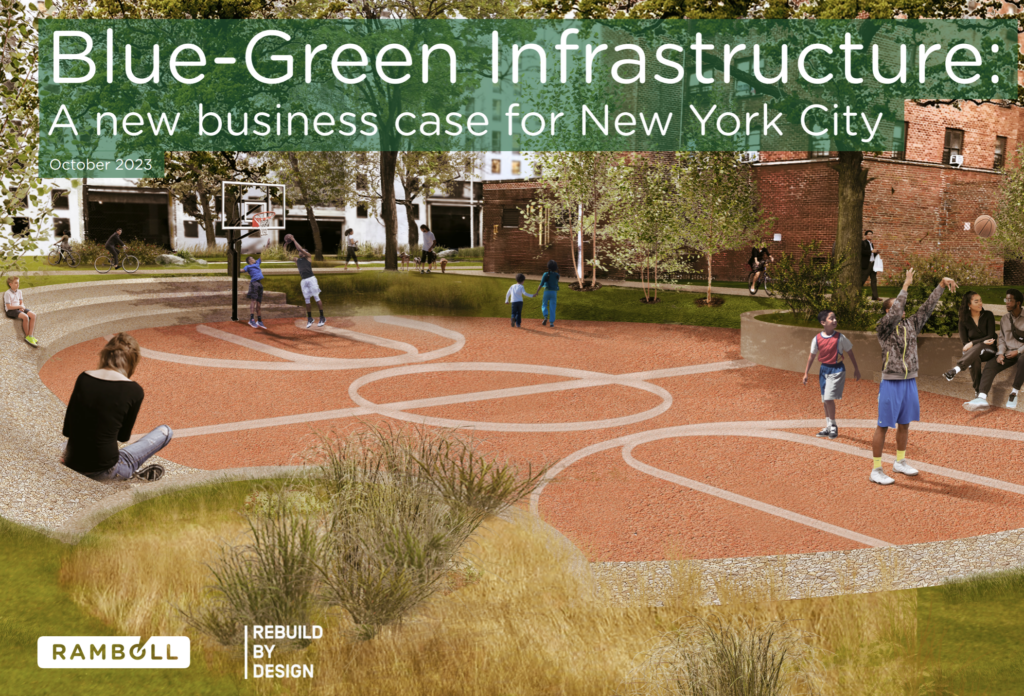 Is Green-Blue infrastructure feasible in New York City? We think so! We therefore asked Ramboll to develop a business case. The study shows that for every $1 invested in Blue-Green Infrastructure in New York City, there is a $2 return on investment.
RECENT PROGRESS ON STORMWATER POLICY
Frequently asked questions
Click on the arrow to view the answer
WE COULD NOT HAVE DONE THIS WORK WITHOUT the generous support of the NorthLight Foundation and Wells Fargo.