Hurricane Ida left a path of destruction and a collective head scratching – wondering what could have been done to prepare, what can be done to help those most affected, and what should be done to prevent a similar event from happening again. 
However, we already have the answers. Experts in water management, data, transportation, parks and open space, regional planning, and emergency planning locally, nationally and internationally have been talking about the bold action we need to both prepare and respond to increasing severe climate events. We hope that the death and destruction we saw this month will never be repeated again.
Rebuild by Design asked 20 experts to offer "Concrete ideas of policies and projects that protect our communities from the flash flooding and loss of life which we experienced from Hurricane Ida."  We know this will not comprise all the solutions, but we hope it is the start of an understanding that we know what we need to do – collaborate across government silos, sectors and communities to enact it. 
These essays will demonstrate that if we invest in green infrastructure on a large scale, changing the ways our government invests in projects, substantially increasing resources for the creation and maintenance of our green spaces, investing in data and more precise emergency alert systems which can be life-saving, building housing that is both safe and affordable, and doing with communities – from the start,  we can thrive in the face of comlate change while also creating jobs, increasing physical and mental health outcomes, restoring ecology, improving neighborhoods, and building and rebuilding a City even greater than the City we live in today.
Scroll down for individual essays or read the full report here>>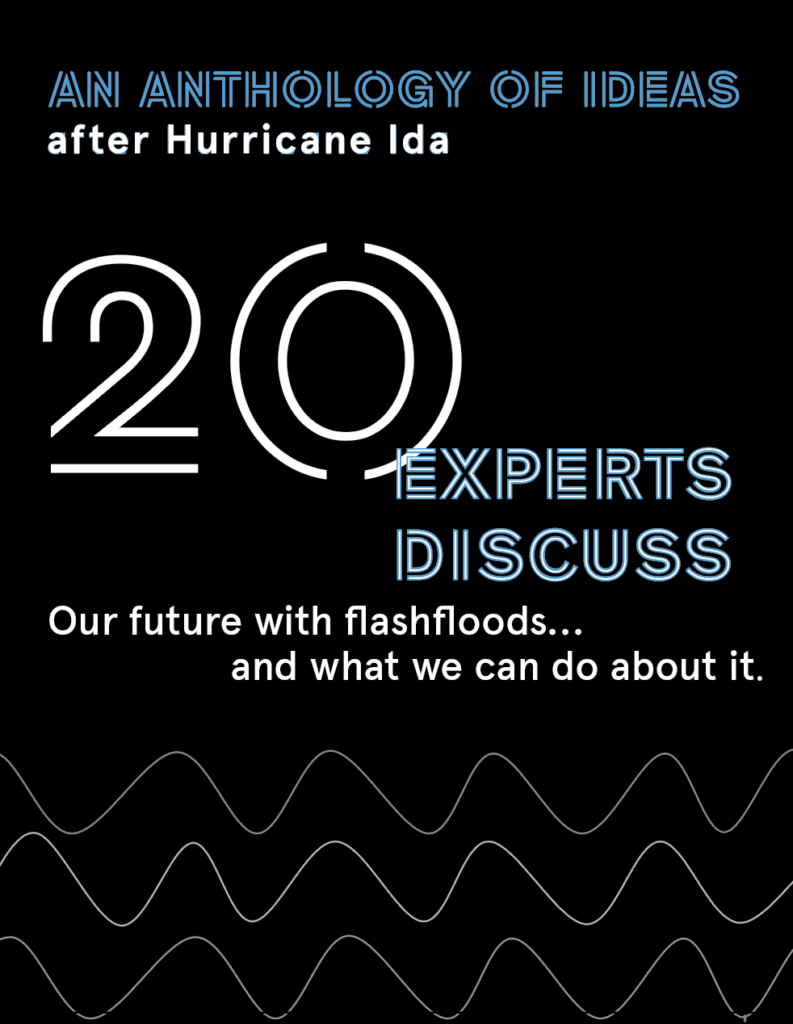 "The more targeted and specific local authorities can become with emergency alerting, the more trust they will build among citizens and the more lives they will inevitably save."
"Either we learn from our mistakes, or we keep allowing each successive disaster to accelerate the divide between those who have access to a safe, secure and healthy place to live and those whose options are getting smaller and smaller."
Teresa Gonzalez, Resilience PAC
"More than that, low-income, immigrant and communities of color – and the advocates and organizations that fight for them – must be prioritized in comprehensive community outreach and engagement within the planning process to ensure that all perspectives, lives and voices are being considered."
Lot Locher and Daniel Daniel Goedbloed, former and current Amsterdam Rainproof
"The motto "Every drop counts," helps to make the people aware that they are co-owners of both the problem and its solutions"
Carter Strickland, Trust for Public Land
"We cannot afford to ignore that floods pose an immediate threat to life and that muddy water from intense cloudbursts does affect drinking and swimming water quality."
Caleb Stratton and Jennifer Gonzalez, City of Hoboken
"Hoboken has more flood risk per capita than the City of Houston.. What NYC might have experienced two or three times in the last few decades we experience annually."
Gita Nandan, Pratt Institute / thread collective / RETI Center
"Local community members have deep local knowledge that can more accurately guide the best design directions for social, ecological, and economic transformations" 
Matthijs Bouw, One Architecture and Urbanism and the Weitzman School of Design, UPennDesign
"We cannot afford to ignore that floods pose an immediate threat to life and that muddy water from intense cloudbursts does affect drinking and swimming water quality."
Timon McPhearson, Urban Systems Lab, The New School
"Model projection information is key to making smart, local, and context specific investments to decrease impacts of multiple forms of stormwater flooding in the city, but we must improve our knowledge about flooding when it happens."
Julie Pullen, Jupiter Intelligence
"The solutions must reflect the complexity of our built environment and meet the needs of the lives and livelihoods that thrive therein"
Kate Boicourt, Environmental Defense Fund
"Besides increased investment, the City should also reduce climate risks through every land use, building, and infrastructure decision."
Joseph Sutkowi, Waterfront Aliance
"Much more can be done at the building-level scale. Programs to upgrade the existing building stock have largely focused on carbon emissions, an important but fundamentally different goal."
Joyce Coffee, Climate Resilience Consulting
"No sane leader thinks these disastrous climate change events and pandemics will decline in frequency any time soon."
TRANSPORTATION AND HOUSING
Klaus Jacob, Columbia University Earth Institute
"Some of MTA's post-Sandy measures were effective for the time being. But we need a long-term comprehensive plan to reduce – if not eliminate – our infrastructure's long-term vulnerability to climate change."
Betsy Plum, Riders Alliance
"Walls of trash stacked on sidewalks before garbage collection all too easily become clogged sewer drains and worsen subway flooding during heavy rains."
Deborah Morris, Harvard University Graduate School of Design
"No one should live in a basement. Basement and ground floor dwellings will always be susceptible to aquatic intrusion while also being dark, damp, spaces that are more difficult to ventilate than their counterparts that are fully above grade."
GREEN INFRASTRUCTURE AND OPEN SPACE
Ibrahim Abdul-Matin, Green Deen and Green Squash Consulting
"City government needs to make a commitment to green infrastructure first. It should be Green over Grey every time."
Sarah Charlop-Powers, Natural Areas Conservancy
"While we often think of nature as self sustaining, these areas require investment to ensure that they continue to serve our city."
Adam Ganser, New Yorkers for Parks
"The parks operations budget is chronically underfunded, our parks are riddled with crumbling infrastructure, and our leaders have shown little appetite to build the next generation of great multi-function New York City parks."
Danielle Feld-Spiegal, Guarini Center on Environmental, Energy & Land Use Law, NYU
"The program offered only minimal tax relief and required property owners to comply with cumbersome procedural requirements. It was a toxic combination; eight years into the program, only seven property owners had received the abatement."