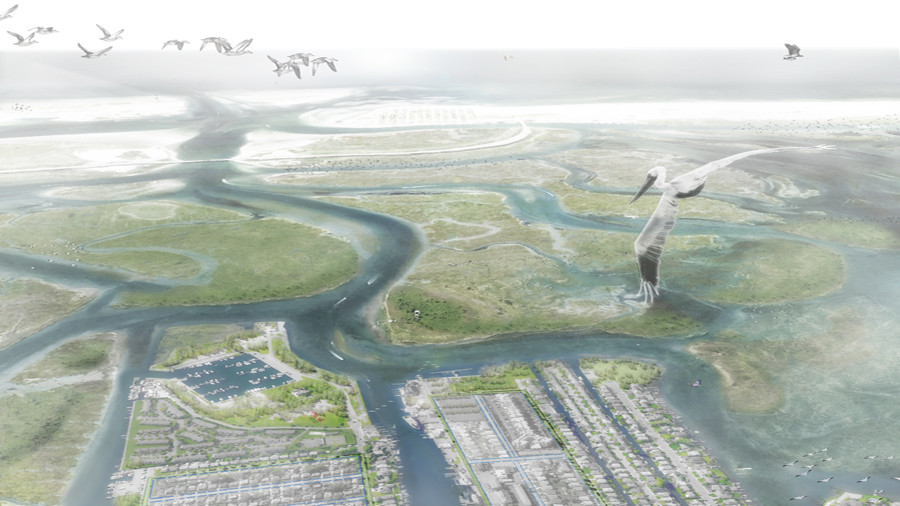 Developed by: Interboro / Apex / Bosch Slabbers / Deltares / H+N+S / Palmbout / IMG Rebel with Center for Urban Pedagogy, David Rusk, NJIT Infrastructure Planning Program, Project Projects, RFA Investments, TU Delft
After World War II, Nassau County's proximity to New York City and room for growth made it ideal for suburban, single-family homes. But its development came at a cost: Long Island has had to confront day-to-day threats like stormwater runoff flooding, bayside inundation, and coastal wave action. All of these are acutely underscored by sea level rise, ecological failures from overdevelopment and pollution, and a lack of access to housing and public space. When Hurricane Sandy hit the south shore of Nassau County, the blow was devastating: 14 people were killed and thousands of homes were damaged or destroyed.
Location: Nassau County, Long Island, NY
Award: $125 Million
Grantee: New York State Governor's Office of Storm Recovery
The Living with the Bay proposal envisions a "buffered bay" approach. Hurricane Sandy's storm surge caused most of the damage, and regular stormwater runoff and wastewater overflows continue to degrade the ecosystems that provide natural protections from storm surge.
Strategies for the Barrier Island: The Smart Barrier
Long Island's barrier islands are among the region's most vulnerable zones. The proposal envisions protective infrastructure that doubles as an amenity to provide access to the bayshore, while also serving as a landscape where stormwater is stored, cleaned, and replenished.
Strategies for the Marsh: The Eco-Edge
Wetlands—particularly saltwater marshes—buffer coastal communities. However, urban development has negatively affected Nassau County's critical environment. New marsh islands could reduce wave action, improve bay ecology, and afford new recreational opportunities.
Strategies for the Lowlands: Slow Streams
The areas around Southern Nassau's north-south tributaries are threatened both by storm surge and rainfall  flooding. Addressing these threats could transform rivers into green-blue corridors that store and filter water, provide public space, and offer room for new urban development.
View the team's full proposal here.
The New York Governor's Office of Storm Recovery has worked to re-scope Living with the Bay. The updated vision, based on the Slow Streams strategy, includes a "Greenway Corridor" to link communities along the Mill River through bike paths and trails. The updated Living with the Bay plan will mitigate damage from storm surge and common rain events by strategically deploying protective measures like constructed marshes and dikes, which in turn will improve water quality and the bay ecology. The State has engaged a community advisory group to help shape the project to improve the area's social and environmental resilience.