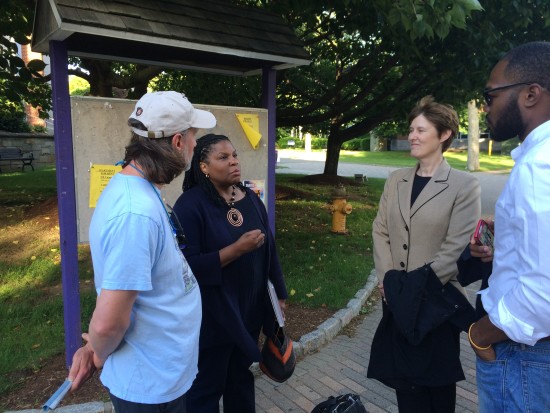 On June 10th, Bridgeport residents, regional historic preservation officials and experts, local scientists and designers, and design team members gathered in downtown Bridgeport for "Culture & Climate."
This was an afternoon of public events that began with lunchtime lectures by representatives of the Union of Concerned Scientists and the National Trust for Historic Preservation. Over thirty of the lecture attendees stayed through the afternoon, breaking out into two groups to tackle critical issues such as sea level rise projections, dry egress, different strategies for addressing chronic flooding and storm surge in the low-lying areas of Bridgeport, and selection criteria for design strategies and the pilot project.
The draft Atlas was released at this event and will be posted online following a final edit.
The attendees then departed on foot for key sites throughout the South End. One group walked from the University of Bridgeport to Seaside Park and from there to Seaside Village and Marina Village. The explored the likely pilot project area. The other group made stops at the historic Cottage District, Freeman Houses, Park Avenue and railroad intersection, and Marina Village. At these locations, community members shared stories about the South End and from their personal histories, and even opened up their homes and gardens to tour participants.
The design team continues to collect information and meet with key stakeholders, including the utility and power generators that own large tracts of land throughout the study area. That information informs the work that the team is doing on both design strategies and pilot project components, which will be the main focus of the community engagement activities that are slated to occur on July 23.