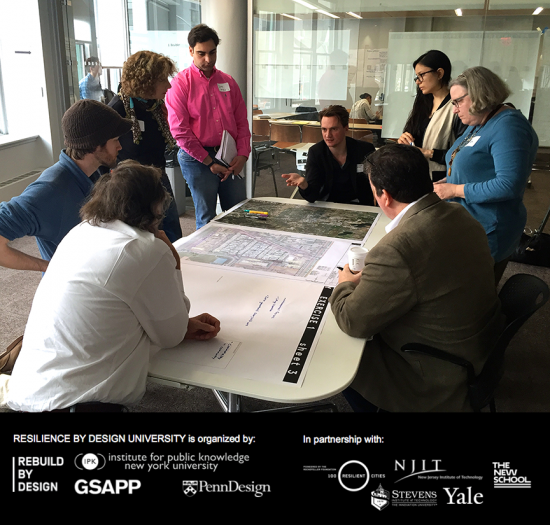 Over the course of two days, Resilience by Design University (RBD U) brought together over 400 students and practitioners from two dozen universities to discuss and workshop issues of resilience in the classroom and in practice.
Friday's symposium at Columbia GSAPP featured a keynote lecture by Henk Ovink, Special Envoy for International Water Affairs, Kingdom of the Netherlands,and panels with many esteemed academics and designers. Saturday's workshop down at NYU, developed in partnership with 100 Resilient Cities, led students through exercises in prototyping design approaches with with Chief Resilience Officers from Boulder, CO, Norfolk, VA, and Mexico City, Mexico in an effort to gain a better understanding of the role design can play in urban resilience. David Waggonner, partner at Waggonner & Ball Architects set the stage for the day by presenting New Orleans as an Integrated Resilience Project.
Presentations from the event can be accessed here. Videos of the talks are available on our vimeo.
Thank you to all of our fellow organizers, Columbia GSAPP and PennDesign and partners Stevens Institute, New School, New Jersey Institute of Technology, Yale and 100 Resilient Cities for helping make this event a reality. RBD U is a growing initiative that we are working to develop further so we can bring its lessons to an even wider audience. If you'd like to get involved: info@rebuildbydesign.org