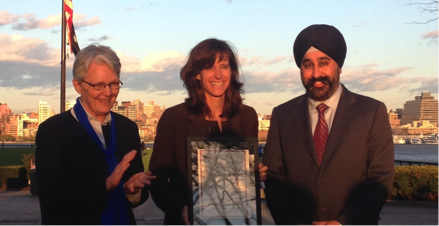 Henk Ovink, Principal and Amy Chester, Managing Director of Rebuild by Design presented on their process during the United Nations Conference on Disaster Risk Reduction in Sendai, Japan. After showcasing the "Resist, Delay, Store, Discharge" project from the competition, the United Nations Office for Disaster Risk Reduction named Hoboken a "role model city" for resilience.
Since 2010, the UN's Office for Disaster Risk Reduction "Making Cities Resilient" campaign has granted the distinction to 44 cities worldwide; Hoboken now joins San Francisco as the only US locations.
In early May, The United Nations Granted Hoboken a Historic Resilience Award. The United Nations International Strategy for Disaster Reduction awarded Hoboken Mayor Dawn Zimmer with a Role Model City certificate applauding the city's comprehensive water-management strategy, calling it "a new way of thinking about resilience." An international delegation led by the Kingdom of the Netherlands praised Hoboken and Rebuild by Design as examples for cities and countries around the world.