The East Side Coastal Resiliency (ESCR) project will reduce coastal flood risk on Manhattan's East Side through an integrated 2.4-mile system of raised parkland, floodwalls, berms, and movable floodgates. The project's largest section is East River Park, and the project also includes sewer system upgrades to better manage runoff during heavy storms, public space and park upgrades to promote community well-being and biodiversity, and reconstructed bridges and entry points to enhance access to the waterfront. ESCR construction is divided into three Project Areas: Project Area 1 (PA1), which encompasses between Montgomery St. and East 15th St including East River Park; Project Area 2 (PA2), which comprises the area between East 15th St. and East 25th St.including Asser Levy Playground, Stuyvesant Cove Park, and Murphy Brothers Playground; and Parallel Conveyance (PC) which is made up of inland drainage infrastructure improvements on local streets. 
The ESCR project broke ground in fall 2020 and will be completed by 2026. In PA1, ongoing construction for East River Park currently includes sewer upgrades, floodwall development, and soil stabilization, and will be phased so that at least 42% of open space will be publicly available throughout construction. In PA2, over 1,000 feet of floodwall has already been installed. In July, Mayor Adams opened the new Asser Levy Playground, which was rebuilt with resilient materials and now features 320 feet of new floodwall and a 79-foot sliding floodgate. The first PA2 protective flood gate was installed in Stuyvesant Cove Park in February. Site restoration of the northern portion of Stuyvesant Cove Park will be completed in the fall. 
The project has been awarded an Envision Gold Award from the Institute of Sustainable Infrastructure in recognition of its comprehensive approach to climate resilience that protects and engages the community while enhancing public space and amenities. A Community Advisory Group (CAG) meets monthly to monitor construction, hiring goal compliance, and other issues. The meetings occur monthly and you can access past meetings here.
KEY DATA
Location: Manhattan's East Side, New York
Implementation Led by: New York City Department of Design and Construction
Budget: $1.045 billion ($335 million Federal grant through Rebuild by Design, $710 million City funding)
At a Glance: Asser Levy Playground reopened in July 2022 with a completed floodwall and floodgate, and East River Park construction is ongoing. The project will be completed by 2026.
Press: Manhattan park reopens with 45-ton moveable flood wall in place, NY1 (Aug 2022); East Side Coastal Resiliency Project Receives 'Envision Gold Award' From Institute For Sustainable Infrastructure, ConstructionEquipmentGuide.com (Aug 2022); New York City's first floodgate arrives on the East River waterfront, The Villager (Feb 2022); Lessons from New York: What makes a community turn against climate adaptation?, Grist (Feb 2022); Learning How to Live a New Normal: Understanding Climate Adaptation in NYC, NBC (Dec 2021); The Destroy-It-to-Save-It Plan for East River Park, New York Magazine (May 2021)
GET INVOLVED
Learn more about this project on the ESCR project website HERE. 
View project updates HERE, read construction newsletters HERE, and sign up for future project communications HERE. 
Attend monthly Community Board 3, Community Board 6, or Community Advisory Group (CAG) meetings and watch previous CAG meetings here.
Receive updates on this and other Sandy resilience projects by signing up for the Rebuild by Design newsletter HERE.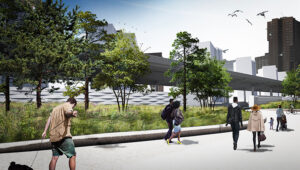 .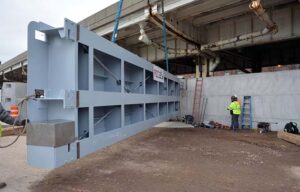 .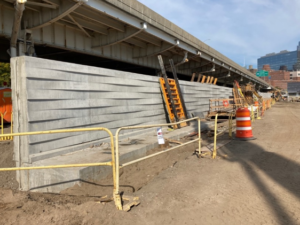 Rendering of Stuyvesant Cove Park, Stuyvesant Cove Park vehicular swing gate install; first section of floodwall in Stuyvesant Cove Park. Source: NYC Department of Design and Construction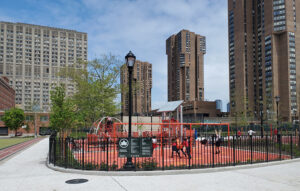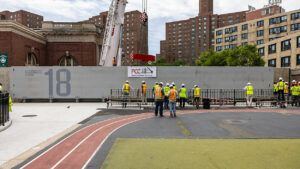 Completed Asser Levy Playground and roller floodgate installed at Asser Levy Park. Source: NYC Department of Design and Construction