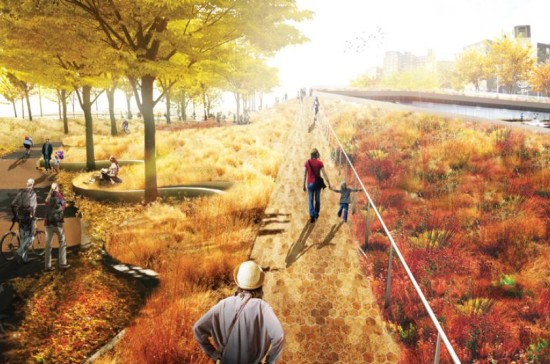 In October 2012, Hurricane Sandy hit the north eastern United States. The storm plunged many of the region's cities into darkness, left millions without electricity and several dozen dead.
Much of the worst damage done by the storm was the result of flooding, when waves three feet higher than had ever been recorded hit New York City. Among the many shocking images to come out of the disaster, perhaps the most striking were those of the city's subway tunnels flooded with water.
And so, in the aftermath of the storm, the US Department of Housing & Urban Development (HUD) launched its "Rebuild by Design" competition. Its goal was to bring together architects, engineers, ecologists and communities to find ways of making the heavily populated coastal region less vulnerable to flooding.
In June 2014, HUD announced that six projects would be going ahead, and sharing $930m in government funding. Each seeks not only to improve the city's flood protection, but to regenerate areas of its waterfront. And on Friday, Rebuild By Design is holding an event to celebrate its second anniversary and discuss how the projects are going.
So, what are these projects? Here's a quick guide: read more….