Join the Institute for Public Knowledge for a book talk on The Heat Will Kill You First: Life and Death on a Scorched Planet with the author Jeff Goodell in conversation with Eric Klinenberg.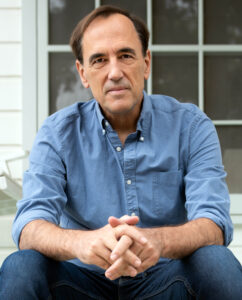 Jeff Goodell is a New York Times bestselling author of seven books, including The Water Will Come: Rising Seas, Sinking Cities, and the Remaking of the Civilized World, which was picked as a New York Times Critics' Top Book of 2017, as well as one of Washington Post's 50 Notable Works of Nonfiction in 2017.  Goodell's previous books include Sunnyvale, a memoir about growing up in Silicon Valley, which was a New York Times Notable Book, and Big Coal: The Dirty Secret Behind America's Energy Future. He has covered climate change for more than two decades at Rolling Stone and discussed climate and energy issues on NPR, MSNBC, CNN,  CNBC, ABC, NBC, Fox News and The Oprah Winfrey Show.  He is a Senior Fellow at the Adrienne Arsht-Rockefeller Foundation Resilience Center and a 2020 Guggenheim Fellow.
Eric Klinenberg is Helen Gould Shepard Professor of Social Science and Director of the Institute for Public Knowledge at New York University. He is the author of Palaces for the People: How Social Infrastructure Can Help Fight Inequality, Polarization, and the Decline of Civic Life (Crown, 2018), Going Solo: The Extraordinary Rise and Surprising Appeal of Living Alone (The Penguin Press, 2012), Fighting for Air: The Battle to Control America's Media (Metropolitan Books, 2007), and Heat Wave: A Social Autopsy of Disaster in Chicago (University of Chicago Press, 2002), and co-author, with Aziz Ansari, of the New York Times #1 bestseller Modern Romance (The Penguin Press, 2015). His scholarly work has been published in journals including the American Sociological Review, Theory and Society, and Ethnography, and he has contributed to The New Yorker, The New York Times Magazine, Rolling Stone, and This American Life.
Eleni "Lenio" Myrivili is Global Chief Heat Officer to UN Habitat and the Arsht Rock Resilience Center, working to build heat resilience in cities around the world. Eleni serves as a Senior Advisor and Senior Fellow at the Arsht-Rock Resilience Center at the Atlantic Council. She is also one of the experts on the EU Mission Board for Adaptation of the European Commission.
Eleni was elected to city government in Athens, Greece from 2014 to 2019 and was appointed as Athens' Deputy Mayor for Urban Nature and Climate Resilience. Over the last decade, Eleni served as Chief Heat Officer and Chief Resilience Officer for the City of Athens and co-chaired the Steering Committee of the Resilient Cities Network. Her work on heat resilience established the city's leadership in international urban climate change responses.
A recognized voice in Heat Resilience, Eleni Myrivili was invited to deliver a TED Talk Global in March 2022. She has been featured in prominent international media, including the New York Times and was named one of Politico's 28 most influential Europeans for 2022. She held a tenured position at the University of the Aegean, was the host of a National Public Television documentary series on sustainable living, and holds a Ph.D. in Anthropology from Columbia University.
Details:
Monday, September 18th 5:30-7PM
20 Cooper Square, 5th Floor