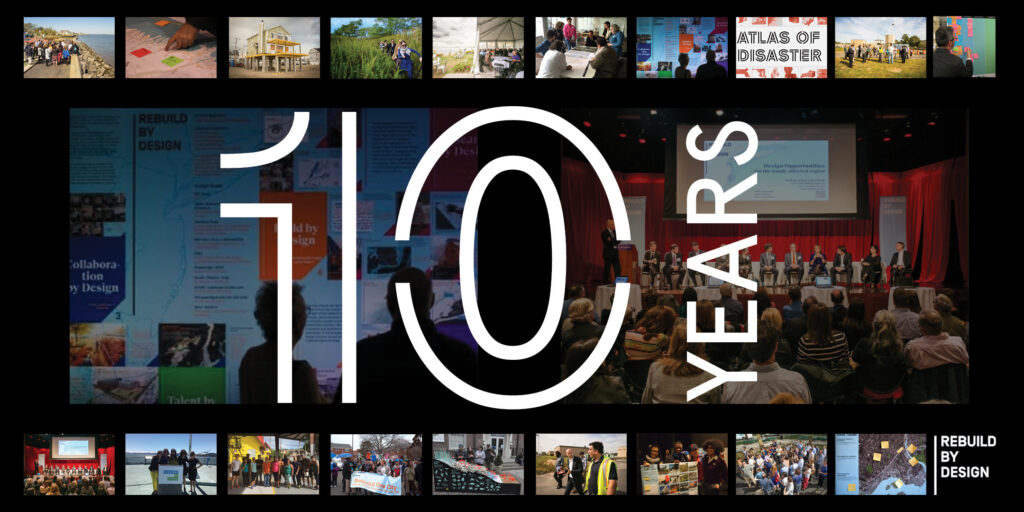 Let's CELEBRATE!

Thursday, September 21st, 6PM - 8:30PM
Join us in celebrating a decade of collaborative research and design to adapt to climate change around the world as we toast to the great people who have contributed to this milestone and honor the incredible work of three climate adaptation champions: 
MARION MCFADDEN
US Department of Housing and Urban Development (HUD)
DAMARIS REYES
Good Old Lower East Side (GOLES)
VICTORIA SALINAS
Federal Emergency Management Agency (FEMA)
***NEW LOCATION***:
BIG (Bjarke Ingles Group)
45 Main Street, 9th Floor
DUMBO, BROOKLYN
In addition to celebrating a decade of action, we are raising funds to support Rebuild by Design's next chapter, working alongside communities to prepare for complex and emerging challenges.
$150 Suggested Donation
To place your name on our guest list, please fill out the form below and follow the link for submitting a donation. 
Rebuild by Design is housed at the Institute for Public Knowledge at New York University. 100 percent of every dollar donated through the link above goes to Rebuild by Design's work.
Thank you to all of our funders, to BIG for donating the space, and
you for supporting this work!