The Rebuild by Design Hudson River Project will address flood-prone areas in Hoboken, Weehawken, and Jersey City against storm surge, flash floods, and rising sea levels through a four-part strategy: Resist, Delay, Store, and Discharge. The Resist intervention aims to reduce coastal storm surge risks; Delay focuses on policy recommendations and green infrastructure to slow runoff; Store encompasses interconnected green infrastructure to store and convey runoff; and Discharge refers to pumps and sewer upgrades that enhance drainage. The New Jersey Department of Environmental Protection is leading the Resist initiative, while the City of Hoboken spearheads the Delay, Store, and Discharge (DSD) interventions. The project broke ground in May 2021. 
The first phase of the project, Sewer System Modification (SSM), is substantially complete, with full completion slated for September 2022. SSM will prevent storm surge from overwhelming the combined sewers and subverting the protection generated by the Resist floodwall by separating portions of Hoboken's combined sewer system (CSO). Phase two of the project, the Resist segment, will extend from Jersey City to Weehawken and consist of an 8,846-foot series of hard infrastructure measures like floodwalls and deployable gates as well as soft landscaping elements like berms. Construction will begin in early 2023 and is slated for completion by summer 2026. 
Parallel to that work, the City of Hoboken is building a series of interconnected resiliency parks to capture, store, and convey stormwater. This includes an expansion of Southwest Resiliency Park and the development of Northwest Resiliency Park, which will have the capacity to store and filter one million gallons of stormwater. Northwest Resiliency Park is currently under construction and slated for completion by April 2023. Finally, the Hudson River project recently received an additional $100 million from the State's American Rescue Plan Act allocation that will be allocated toward above-ground flood mitigation infrastructure at the new three-acre Harborside Park. Harborside Park will be the first park in the State with elevated flood protection features. Construction is anticipated to start by spring 2023.
KEY DATA
Location: Hoboken, Weehawken, and Jersey City, New Jersey
Implementation Led by: New Jersey Department of Environmental Protection and City of Hoboken
Budget: $480 million ($230 million HUD CDBG-DR grant through Rebuild by Design, $150 Million in City funding through the Open Space Trust Fund and low interest loans from the New Jersey Infrastructure Bank, $100 million from the State of New Jersey)
At a Glance: Phase one (Sewer System Modification) is underway and slated for completion by September 2022, with the Resist contract projected to start by early 202. The City received $100M from the State toward flood mitigation infrastructure at Harborside Park.
Press: Rebuild By Design: Harborside Park Construction To Begin In 2023, Hoboken Says, TAPintoHoboken (Aug 2022); NJ Budget Allocates $100M To Rebuild By Design Project, TAPintoHoboken (July 2022); 8 Years After Sandy, $230M Hoboken Flood Plan Gets Kickoff, NBC (May 2021)
GET INVOLVED
Learn more about this project by visiting the project website HERE. 
Sign up for updates on this project HERE.
Receive updates on this and other Sandy resilience projects by signing up for the Rebuild by Design newsletter HERE.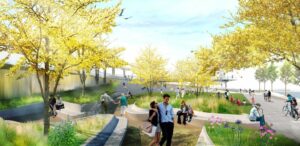 .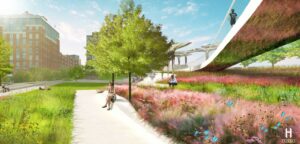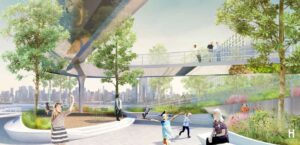 Design renderings for Harborside Park. Source: City of Hoboken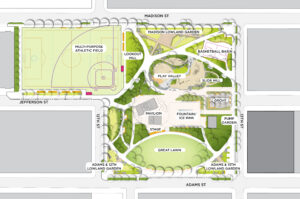 .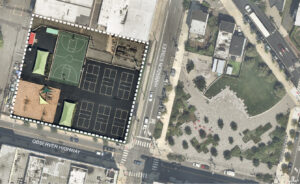 Preliminary Design for Northwest Resiliency Park and Temporary pop-up park at the future Southwest Resiliency Park Expansion site. Sources: City of Hoboken Northwest Park and Southwest Park.