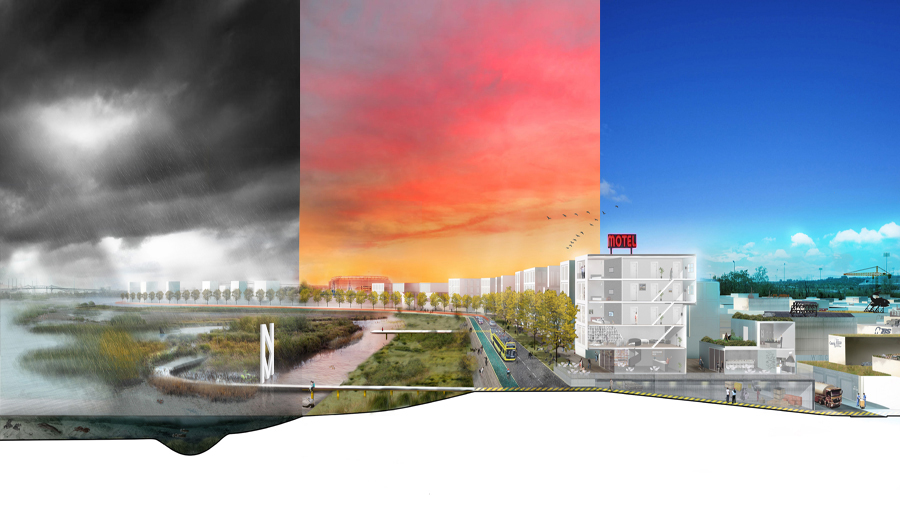 PROJECT PAGES: New Meadowlands
Developed by: MIT CAU + ZUS + URBANISTEN with Deltares; 75B; and Volker Infra Design
The low-lying Meadowlands, a flood-prone area located across the Hudson River from New York City, is home to critical power, wastewater treatment, and transportation infrastructure for the region. These facilities include two airports and thousands of acres of rail yards, as well as 14 separate municipalities and 150,000 jobs. Interventions here need to address the combined effects of flooding, heat islands, pollution, social vulnerability, and vital network protection.
Almost 10 miles from the coast, parts of the Meadowlands were inundated by Hurricane Sandy. Flooding affected both warehouses and residences. Because the municipal sewer system cannot handle rainwater runoff, the area regularly floods during strong rainstorms.
Location: The Meadowlands: Little Ferry, Teterboro, Moonachie, South Hackensack, Carlstadt, NJ
Award: $150 Million
Implemented By: New Jersey Department of Environmental Protection
The New Meadowlands proposal comprised three flood risk reduction projects: Protect, Connect, and Grow.
Protect: A "Meadowpark," will transform the Meadowlands into a flood-protected regional public park by connecting and expanding past marshland restoration with a system of berms and marshes
Connect: A "Meadowband" would offer flood protection, connections between towns and wetlands, and access points to "Meadowpark." It imagines new bike lanes that would connect to New York City and a Bus Rapid Transit system that would link the communities to one another and to the regional rail line.
Grow: The Grow project proposed development opportunities such as new, mixed-use housing, enhancements to public transportation, new energy sources and distribution systems, and creating a series of public spaces and recreation zones.
The New Meadowlands proposal focused on flood risk reduction projects in Bergen County in the towns of Little Ferry and Moonachie, which experienced the most damage during Sandy but encompasses a total of five municipalities.
View the team's full original proposal here.
The Meadowlands project builds off the New Meadowlands vision to address a low-lying 5,000 acre area on the Hackensack River that encompasses Little Ferry, Teterboro, Moonachie, South Hackensack, and Carlstadt. The strategy aims to reduce flood risk by managing water flows, cultivate ecology with native plantings, and energize the community through public area improvements. To achieve these goals, the project takes a watershed approach, designing improvements at multiple scales to improve stormwater capture, conveyance, and drainage. These improvements are divided into several projects: East Riser Ditch Channel Improvements, Force Main and Public Facility Improvements, Green Infrastructure and Enhanced Open Space for both new and existing parks and open spaces, and Green Infrastructure Improvements to existing parks.
Engineering design of the Liberty Street Pump Station and Force Main project located in Little Ferry is complete, and project construction is anticipated to begin in early 2023. Engineering design of the East Riser Ditch Pump Station is nearly complete, with construction slated to begin in summer 2023, and engineering design of the East Riser Ditch Channel Improvements continues, with construction anticipated to start in late 2023. Engineering design of the Parks/Green Infrastructure Improvements is also underway. Construction on most of the Meadowlands project will be completed by September 2025, except for the East Riser Ditch Channel Improvements and Parks/Green Infrastructure projects for which construction will extend beyond September 2025.
Find project design presentations, fact sheets, and updates on the project website here.
Budget: $150 million CDBG-DR grant through Rebuild by Design