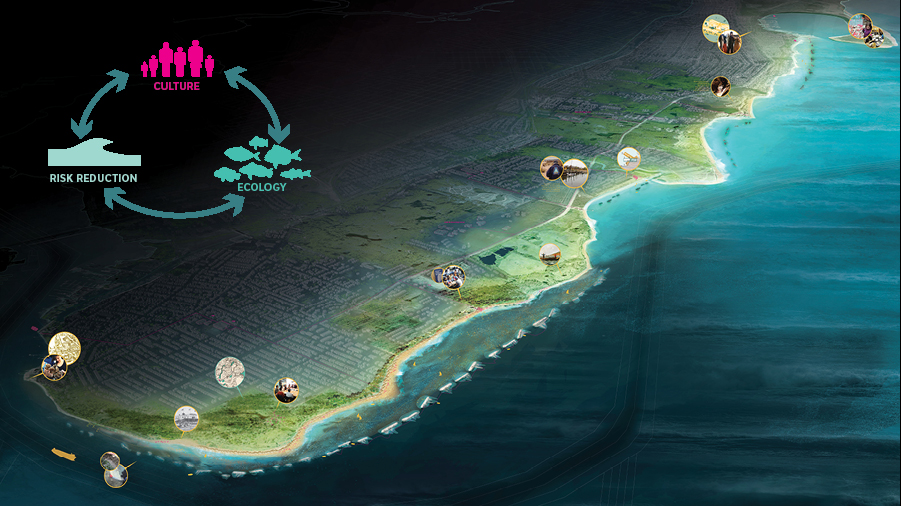 Developed by: SCAPE/LANDSCAPE ARCHITECTURE with Parsons Brinckerhoff, Dr. Philip Orton / Stevens Institute of Technology, Ocean & Coastal Consultants, SeArc Ecological Consulting, LOT-EK, MTWTF, the Harbor School and Paul Greenberg
Situated at the mouth of the New York Bight, the south shore of Staten Island is vulnerable to wave action and erosion, particularly on its south shore in Tottenville. Dredging and the diminishment of natural and farmed oyster reefs have left it increasingly exposed over time. One of the hardest hit areas during Hurricane Sandy, Tottenville experienced severe erosion from the storm, and, given the predicted impacts of sea level rise, it will continue to lose acreage in the future if no action is taken to protect the area.
Location: Tottenville, Staten Island, NYC
Award: $60 Million
Implemented By: New York State Governor's Office of Storm Recovery
Living Breakwaters competition concept was conceived to connect physical, social, and ecological resilience. The proposal is a "necklace" of offshore breakwaters that will reduce risk, revive ecologies, and connect residents and educators to Staten Island's southeast shoreline. The structure will provide habitat to the Raritan Bay's rich ecosystem of marine life, and an on-land Water Hub will be constructed with space for visiting groups, recreational activities, and educational programs. The team's work with the Harbor School and the Billion Oyster Project will bring educational opportunities for local school groups, teaching the next generation of ecological stewards about protecting Staten Island's fragile coastline.
Living Breakwaters is designed to work in concert with other ongoing resilience initiatives in the area, including the New York Rising Community Reconstruction Tottenville Dune and Coastal Dune Plantings project. The vegetated dune system will be strengthened by the breakwaters, to provide a layered system of protection.
View the team's full proposal here.
Following the award of $60 million in Community Development Block Grant-Disaster Recovery (CDBG-DR) funds from the U.S. Department of Housing and Urban Development (HUD) in 2014, Living Breakwaters advanced into a Design & Implementation phase. As part of this process, the SCAPE team conducted extensive hydrodynamic modeling and engineering analysis of the breakwaters to develop design scenarios. These iterations were shared with the local Citizens' Advisory Committee (CAC) for review and community input. The final design has been adjusted from the original competition proposal and has now received city, state and federal agency approval as part of environmental review and permitting.
Construction on the Living Breakwaters project began in Summer 2021.
Click here to see what the final design looks like and learn more about the project on the NYS Governor's Office of Storm Recovery (GOSR) website and stay abreast of construction updates.
Click here for the SCAPE project page.
Related News:
"Manufactured Nature" by Eric Klinenberg in The New Yorker (August 2021)
Kate Orff discusses Living Breakwaters with Christiane Amanpour on CNN / PBS (August 2021)