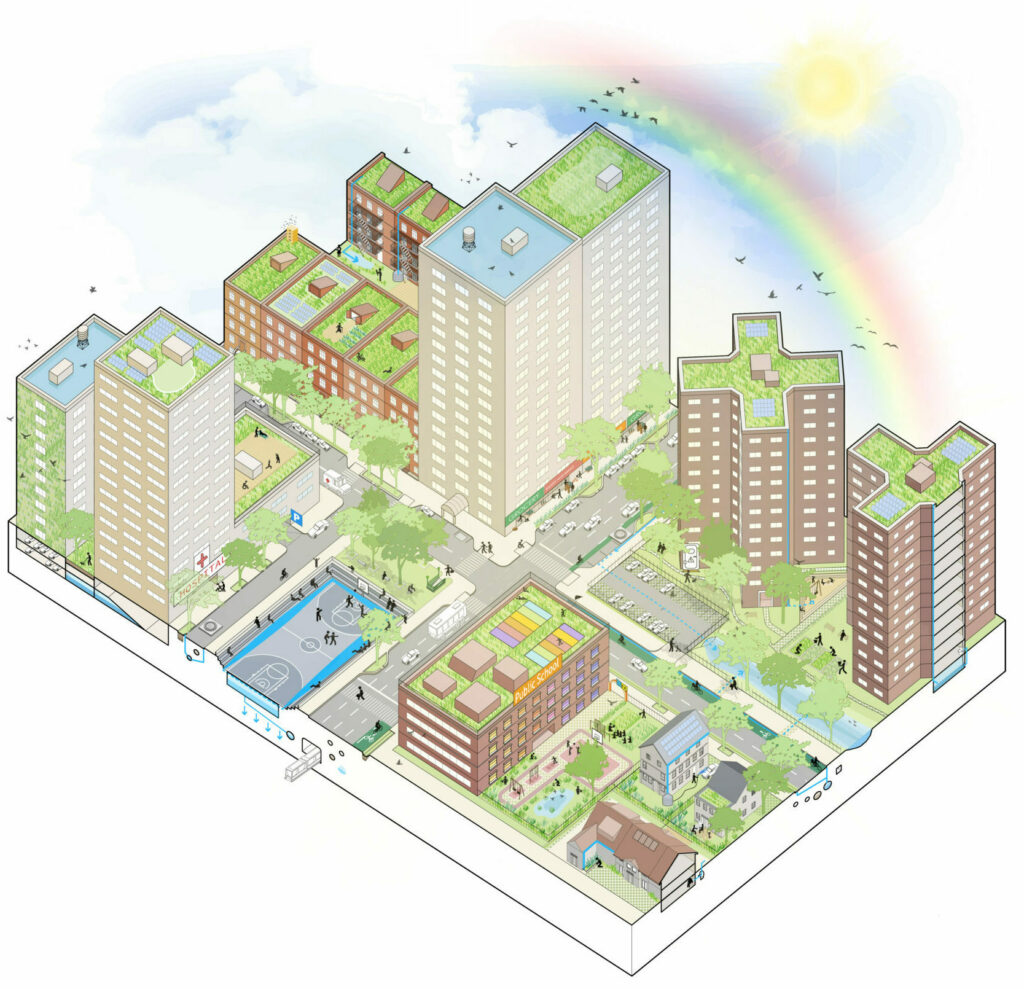 TRANSFORMING THE CONCRETE JUNGLE INTO A SPONGE
On September 1st, 2021, New Yorkers were confronted with a new reality. Across the five boroughs, communities were inundated with heavy rain, causing massive flooding in places that have never flooded previously. Cars, bikes, and pedestrians were stuck in floodwaters; rain poured into subway stations, turning staircases into waterfalls and disrupting service; floodwaters gushed into basements and ground floor apartments. Over 3.15 inches of rain fell during a single hour, breaking a record set only ten days prior by Hurricane Henri.
Twenty-four hours later, the water seemingly vanished, but the psychological imprint of the storm will last for years to come. The flooding caused between $16 – $24 billion in property damage in the Northeast, left 150,000 homes in NY, NJ, PA, and CT without power and over 18,800 tons of debris. Most shockingly were the 43 deaths in the New York Area – 11 of whom drowned in their own homes, trapped by flood waters in basement apartments. New York City was simply not equipped to handle the intensity and duration of the rainfall.
New York City's more than 100 year-old sewer system is not nearly enough to confront climate change. In order to address increasing extreme rainstorm events, storm surge, and sea level rise, the City will need to systematically change its approach at the individual and citywide scale to transform the City into one that can absorb extreme rainfall when we need it the most. The City's existing infrastructure, built environment, and competing needs makes adapting to climate change challenging and expensive. However, we believe that we can meet this challenge while leveraging the co-benefits of better mental and physical health, enhanced ecology, well-paying jobs, neighborhood beautification, and increased social resilience by prioritizing green and multi-benefit infrastructure.
Informed by City Agencies, City Contractors, and representatives from global cities who have successfully prioritized planning for heavy rain events, Rebuild by Design and One Architecture + Urbanism developed a pathway to turn NYC into a sponge.
CLICK HERE TO READ THE REPORT >>
CLICK HERE FOR THE PRESS RELEASE >>
CLICK HERE TO SEE THE AGENDA, ISSUES AND SPEAKERS AT THE RAINPROOF NYC SYMPOSIUM HOSTED BY NYC DEP, REBUILD BY DESIGN AND ONE ARCHITECTURE >>
A comprehensive citywide plan to address stormwater flooding will only be successful if every agency prioritizes the use of green infrastructure in every investment. Prioritizing nature-based solutions will lead to environmental, social, economic, and health benefits in New Yorkers' everyday lives. Nature-based infrastructure can hold the water before it adversely affects residents' lives. It also maximizes investments by leveraging the co-benefits of improved public and mental health and enhanced ecologies, all while making NYC a better place to live.
Climate change is here and New York can lead the way. Starting today, New York must take flood reduction measures into account in all public and private investments to manage 100 percent of current and projected future rainfall to transform NYC into a sponge.
Choose green and multi-benefit infrastructure over gray every time.
Educate the public on multi-hazard risk by publishing maps of the compounded effects of storm surge, cloud burst events, and sea level rise that are also used to guide all City investments.
Develop a systematic approach to rainproofing the city that prioritizes helping the most vulnerable New Yorkers first.
Collaborate with intermediaries to maximize impact.
Articulate achievable targets for detaining and retaining floodwaters.
Accept and plan for the new reality.
Modify the stormwater fee model, placing accountability on properties with the most runoff. 
Regulate and incentivize the private market and developers to implement green infrastructure.

 

Place a "price" on water kept out of the NYC stormwater sewer.

 

Create a workforce that is ready to support a full rainproof of NYC.
Dedicate resources to fund neighborhood organizations and schools to maintain nature-based infrastructure

.

Plan and invest collaboratively with every City Agency.
Appoint an entity within the City government to be responsible for meeting the City's overall flood risk, rain, and storm surge reduction targets.
Learn to live with water.

 

Use every piece of New York City property

 

to delay and store rainwater.

 Update design guidelines for each capital agency to be inclusive of the City's stormwater goals.

Put communities at the center of the design process.
Embrace large-scale measures such as blue-belts, daylighting rivers, detention ponds, and wetlands restoration.

 

Move homeowners to safer places.
Leverage incentives to help private property owners implement rainproofing measures.
Create a central depository of as-built plans and working models of City infrastructure.
Develop a robust education program.
SELECT RAINPROOF MEASURES THAT CAN BE
DEPLOYED AS A SYSTEM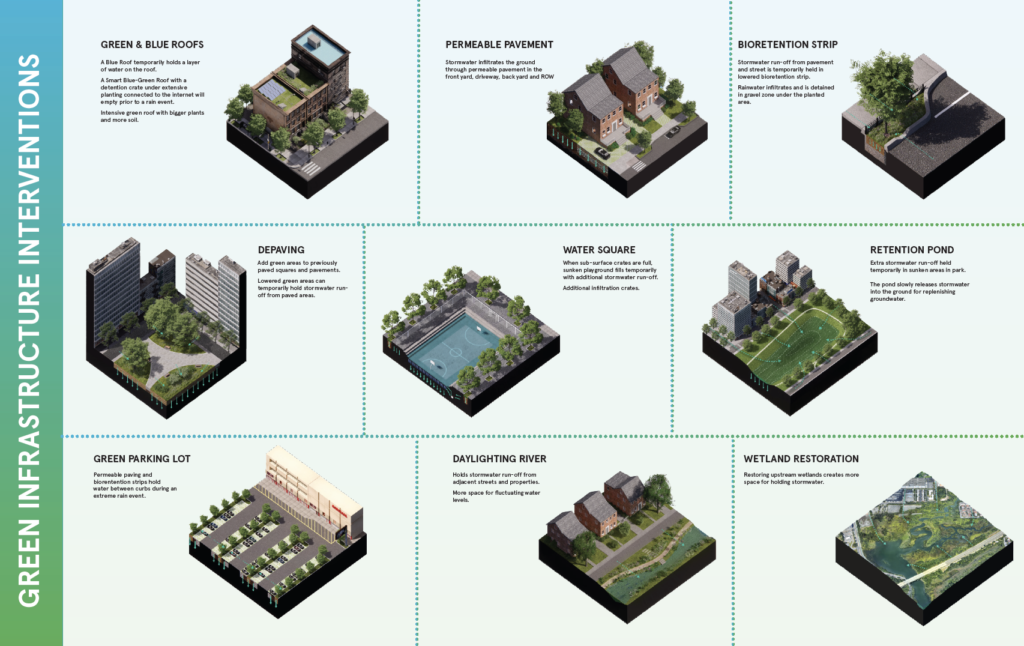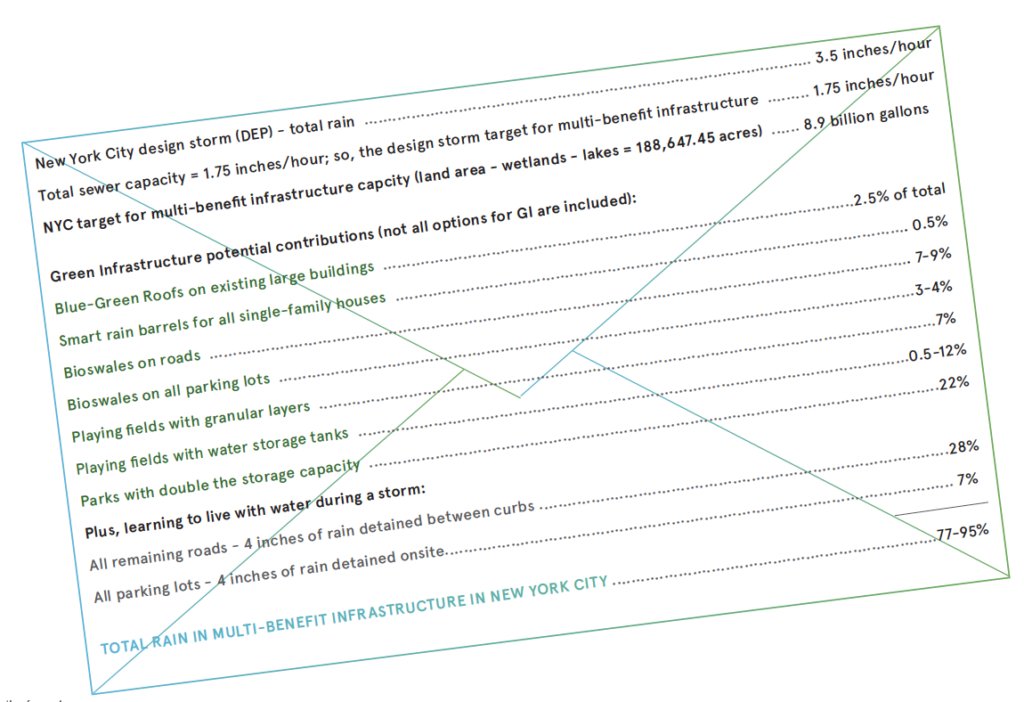 The back of the envelope calculations above represent one way that New York City can use green infrastructure to address increasing rainfall while leveraging other benefits. However, the typology of each neighborhood, among many other factors, would determine the unique approach needed to meet the demand for increased capacity to handle heavy rain in that area. This demonstrates that by implementing many of the same approaches that DEP already uses on a systems scale, we can reach a citywide goal of managing the majority – if not all – of predicted rainfall with green or multi-benefit measures.
Check out Proposed Solutions at Scale
(click to enlarge image)
WE COULD NOT HAVE DONE THIS WORK WITHOUT:
Our Partner:
ONE ARCHITECTURE + URBANISM
Generous support from:
THE NORTHLIGHT FOUNDATION
Knowledge and insights from:
AECOM, Amsterdam Rainproof, ARCADIS, Cloudburst Copenhagen, Centre for Liveable Cities, Singapore, Natural Areas Conservancy, New York City Department of Environmental Protection, New York City Department of Transportation, New York City Housing Authority, New York City Office of Climate and Environmental Justice, The NYC Office of the Comptroller, New York City Office of Emergency Management, The Ramboll Group, The Trust for Public Land, and The Water Center at University of Pennsylvania.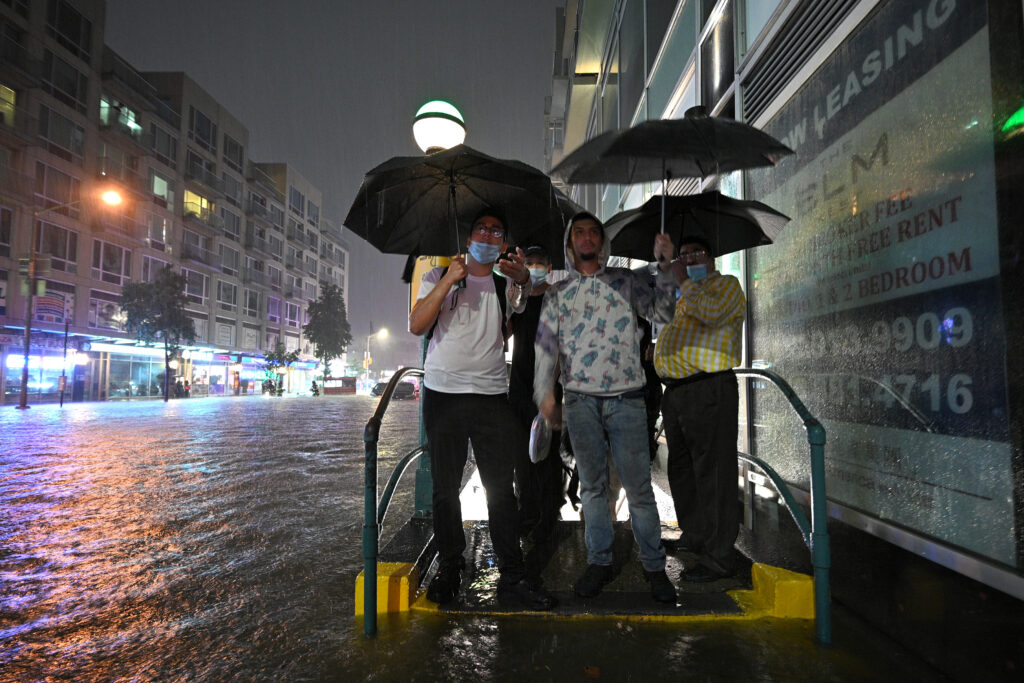 READ MORE ABOUT REBUILD'S WORK ON ADDRESSING RAIN IN NYC
AN ANTHOLOGY OF IDEAS AFTER HURRICANE IDA:
When Hurricane Ida hit NYC in September 2021, it left a path of destruction and a collective head scratching –  wondering what could have been done to prepare, what can be done to help those most affected, and what should be done to prevent a similar event from happening again. 
However, we already had the answers. Rebuild by Design asked 20 experts in water management, data, transportation, parks and open space, regional planning, and emergency planning locally, nationally, and internationally to offer "Concrete ideas of policies and projects that protect our communities from the flash flooding and loss of life which we experienced from Hurricane Ida."  We know this will not comprise all the solutions, but we hope it is the start of an understanding that we know what we need to do – collaborate across government silos, sectors, and communities to enact it. 
Check out the individual essays or read the full report here>>