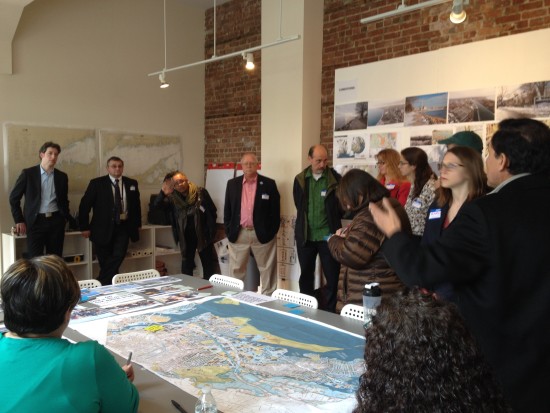 In the last week of March, the Resilient Bridgeport design team convened a weeklong workshop that focused on design conditions, design strategies, and community engagement in downtown Bridgeport and in the South End. The workshops included sessions with other entities conducting planning and resilience efforts in the city.
On the afternoon of March 24, the design team joined with the Connecticut Department of Housing, HUD, and the City of Bridgeport to host an Open House at 7 Middle Street, a new "design space" located in downtown Bridgeport, just steps from the train station.
The focus of the Open House was to share research and design work underway, reconnect with stakeholders who were active participants during the Rebuild by Design competition, and to outline the process ahead and how it relates to the other waterfront planning efforts taking place in Bridgeport today. The team also used the event as an opportunity to discuss with residents how upcoming community engagement can be most meaningful to them and fellow Bridgeport residents in the months ahead.
In addition to workshop preparations, the design team has been developing frameworks for conducting benefit cost analyses of project components, as well frameworks for understanding green infrastructure opportunities. The ARCADIS environmental team has conducted site visits and has begun GIS-based mapping of environmental conditions.