Resilient Bridgeport is comprised of two pilot projects – Rebuild by Design (RBD) and Flood Risk Reduction Project (FRRP) – focused on protecting homes, businesses and infrastructure in Bridgeport's South End from chronic and acute flooding in order to safeguard Bridgeport's most vulnerable communities and foster long-term local prosperity. Shaped by the design team through an ambitious public engagement program, the resulting resilience strategy for the city contains best practices with innovations, guided by design principles that advance prototypes for adaptation to climate change and catalyze sustainable development.
The RBD pilot project in the west side of the neighborhood near the redeveloped Marina Village includes elevating an extension of Johnson Street to support dry egress adjacent to a stormwater park that will serve as a recreational space when dry and a rainwater detention and drainage catchment during storms. Also included is a public plaza and pump station with additional capacity to accept stormwater from other portions of the neighborhood after the combined sewer separation, achieved with funding identified through the planning effort. The collected stormwater is pumped to a repurposed outfall at the head of Cedar Creek, to flush the creek and generate ecological benefits.
On the South End's east side, the FRRP improves the safety and resilience of the historic coastal neighborhood through an integrated coastal defense system with a buried flood wall within raised street profiles and the adjacent belvedere (an elevated structure intended to provide views). From the raised belvedere structure stormwater is conveyed through a water course into the historic Frederic Law Olmsted-designed Seaside Park. The line of protection extends eastward to provide dry egress critical to the development of a key adjacent parcel, and to tie into protection at the regional power station. The system then negotiates its way north through the South End industrial zone to the stone railroad abutment, furnishing storm surge and tidal protection for the neighborhood. The project also includes a new pump station with educational programs, a set of stairs and ramps that serves as a gateway to the park, and a reworked landscape at a previously soggy area of Seaside Park. The water pumped from inside the coastal flood defense system is daylighted into Seaside Park where it flows by gravity through a vegetated open channel. The system combines gray and natural infrastructure solutions to reduce neighborhood flooding and adapt to climate change by fighting saltwater intrusion through groundwater infiltration, replanting for tree succession, and improving recreational space, all of which slows and cleans stormwater before it flows into Long Island Sound.
Throughout the design phases of the Resilient Bridgeport project the project team maintained a design center at 7 Middle. The storefront location provided a space for stakeholders, community members, and the design team to talk, listen, draw, plan, and design together. The 90% final designs for both projects were submitted for review in January and permit applications were underway as of Spring 2022. The State has also secured an additional $10.25 million worth of grants for the FRRP project.
KEY DATA
Location: City of Bridgeport, Connecticut
Implementation Led by: State of Connecticut Department of Housing
Budget: $66.25 million ($10 million HUD CDBG-DR grant through Rebuild by Design, $46 million through HUD National Disaster Resilience Competition, $10.25 million secured by State for FRRP)
At a Glance: 90% designs for both projects were submitted for review in January and permit applications were underway as of spring 2022. 
Press: Storm front: Yale center helps Bridgeport plan for climate threats, Yale News (Dec 2020); Report Emphasizes Importance of Communication in Climate Change Resilience, UConn Today (Jan 2020); Bridgeport building barriers after swamped by stormwaters, CT Post (Sept 2019)
GET INVOLVED
Learn more about this project and sign up for updates by visiting the project website HERE. 
Join upcoming public information meetings for this project HERE.
Receive updates on this and other Sandy resilience projects by signing up for the Rebuild by Design newsletter HERE.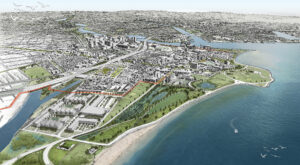 South End Vision. Source: Waggonner & Ball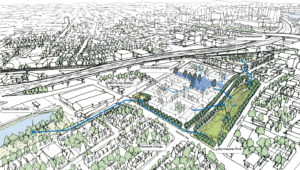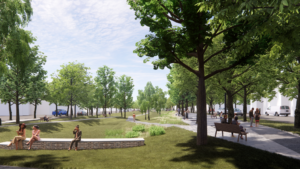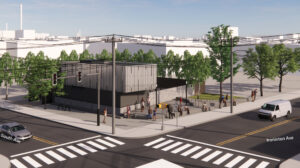 Renderings of RBD project. Source: Waggonner & Ball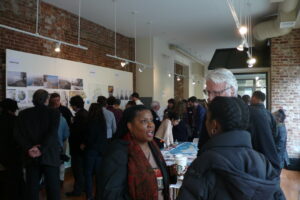 .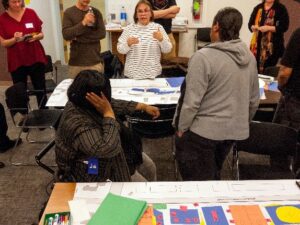 Community meetings. Source: Waggonner & Ball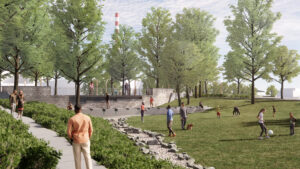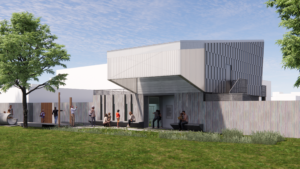 Rendering of FRRP project. Source: Waggonner & Ball