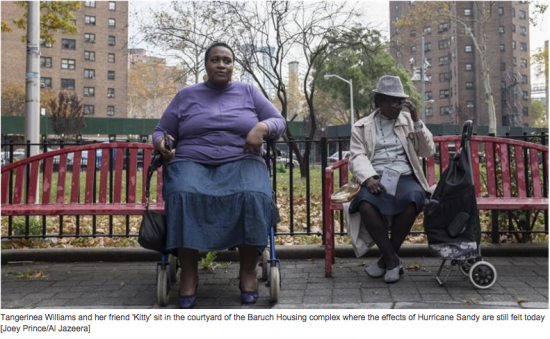 Al Jazeera: After Hurricane Sandy, the city's plans to mitigate future disaster have underscored its social and economic inequities.
On the evening of October 29, 2012, Hurricane Sandy reached the inlet between Long Island and New Jersey and funnelled the Atlantic storm surge into the heart of New York City, inundating lower Manhattan with water and wreaking havoc on the surrounding boroughs.
"It was like an atomic explosion," recalls Dennis Diaz of the moment the rising waters reached the Con-Edison substation near the Lower East Side (LES) housing projects in south Manhattan.
"There was a beautiful blue colour, then an orange light," says Diaz, who was outdoors with other community members when the explosion occurred… click here to read more