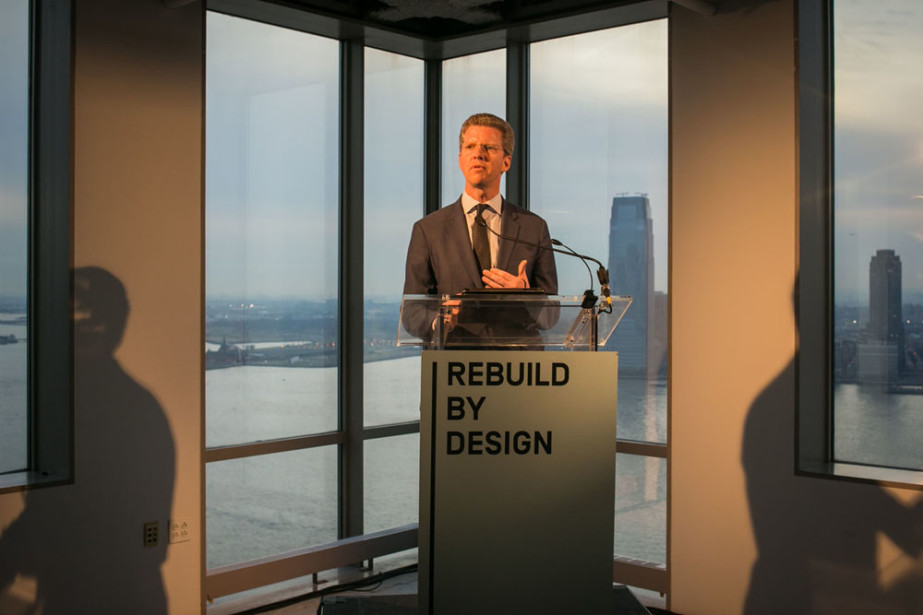 April 3, 2014
5:00 pm – 8:00 pm
250 Vesey St, New York City
On April 3, more than 1,000 people throughout the region attended exhibits and receptions at the Liberty Science Center in Jersey City and the World Financial Center in Lower Manhattan that showcased the final design proposals from the ten interdisciplinary teams selected to participate in Rebuild by Design. The teams shared their work after months of research and working alongside communities across the Sandy-affected region.
U.S. Housing and Urban Development Department Secretary Shaun Donovan and Rockefeller Foundation President Judith Rodin delivered opening remarks at the Manhattan reception. "We gather today to celebrate the power of ideas to make a difference and change the world," said Secretary Donovan. "We're celebrating the possibilities that result when we come together to achieve common goals, and we're celebrating the tremendous work that's been done here to shape a stronger and more resilient region."
Rodin thanked the ten design teams for their contributions to Rebuild by Design. "You've spent countless hours researching, developing and testing innovative design and solutions. And you've worked so closely and effectively with local communities to get their input on the problems they face and what their priorities are in rebuilding resilient communities."
Secretary Donovan will announce the winning proposals later this Spring.