Ninety percent of U.S. counties have experienced a federal climate disaster between 2011-2021, with some having as many as 12 disasters during that time. In 2021 alone, the U.S. experienced 20 separate billion-dollar climate disasters with over 688 direct or indirect fatalities. We can do better.
Rebuild by Design worked with APTIM and iParametrics and an unbelievable team of engineers, researchers, finance experts, data managers, and volunteers to identify, analyze, and synthesize different data sets and ideas into an accessible compendium of county-by-county climate impacts. Click below to see what we have learned.
Click on the bullets below to view each chapter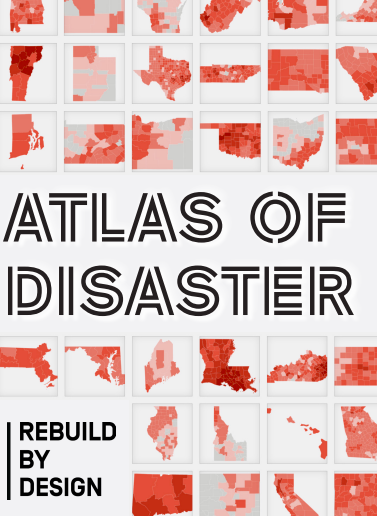 FACTS + FIGURES FOR U.S. CLIMATE DISASTERS 2011-2021
of US Counties had federal disaster declarations from 2011-2021 covering over 300 million people. Five counties in Louisiana and Kentucky have had the highest occurrences of disasters
Had 25 federal disaster declarations – the highest in the country. Nevada had 3 disasters, the least. The median number of disasters is 11.5 for that time period
Had the highest per capital support at $1,736 and the median payout post-disaster from FEMA and HUD is $97 per capita. Arizona had the lowest at $2 per capita.
Of climate infrastructure investment could be supported by a small surcharge on certain types of property and casualty insurance.
Post-disaster assistance from FEMA and HUD. New York, Texas and Florida have received the highest post-disaster federal funding.
Check out the ranking of all States by number of disaster occurrences, and by per capita spending here>>
STATE BY STATE RISK MAPS BY COUNTY 2011-2021
1. CREATE A COLLABORATIVE PROCESS
How we plan directly affects the project outcome. Using a co-creation process with stakeholders, States can deliver new, upgraded, innovative, and climate-ready infrastructure that protects communities in the face of climate vulnerabilities. 
2. DEVELOP NEW SOURCES OF FUNDING
Each state in the U.S. should create a Resilient Infrastructure Fund to serve as a catalyst to support innovative, data-driven, and community-led approaches to address climate risk throughout the United States. States can raise capital by 1) implementing s very small surcharge on certain types of insurance, 2) a ballot measure, 3) taking a system-wide approach to using new sources.
3. PRIORITIZE MULTI BENEFIT PROJECTS
Governments have limited resources and a lot of need. New Benefit-Cost Analysis (BCA) frameworks could drive forward justice-centered resilient infrastructure projects with multiple benefits and uses by determining what projects should invest in.
Rebuild by Design will share this data electronically with researchers who want to build on this work. If you are interested, please email info@rebuildbydesign.org, and if you are media, media@rebuildbydesign.org
Rebuild by Design partners with communities throughout the U.S. and abroad to design regional and local processes that create and implement infrastructure policies and projects to prepare communities for the world's most pressing problems. Do you have a vexing challenge that needs creative problem solving? Contact us at info@rebuildbydesign.org